Black Sky is no more
I sold the space marines, so there will be no more postings here. They have a new home and I hope they have better luck than they did with me!
Prymarr, damn Prymarr
Sgt. O'Malley sat quietly looking over reports. He would be leading elements of 1st Company to destroy the research facility on . It had been two months since the first landings on that forsaken planet. Rumors had spread that the disease that infected his fellow Marines was a precursor to a Tyranid invasion, or that the factuality had been corrupted some how. None of that mattered to the Sergeant,...
7 tags
4 tags
The 3rd Company is "almost" finished
1 Captain 1 Librarian 1 Chaplain 1 Command Squad 6 Tactical Squads with Rhino/Razorback 2 Assault Squads 2 Devastator Squads 2 Scout Suads 1 Terminator Squad 1 Terminator Assault Squad 7 Bikes and 1 Attack Bike 2 Dreadnoughts 3 Speeders 3 Whirlwinds 3 Land Raiders (1 Land Raider, 1 Crusader, 1 Terminus Ultra) 1 Thunderfire Cannon 4 Drop Pods 3 Stormravens ...
6 tags
Additions
I am days/weeks/months from making the Night Death Company a full company. Working on the 2nd ten man squad of assault marines. And I have 15 marines to finish to round out the Tactical squads. Once finished I will have 4 HQ's plus a command squad 6 ten man tactical squads, five with Rhino/Razorbacks and five with drop pods 2 ten man devastator squads 2 ten man assault squads 1 ten...
5 tags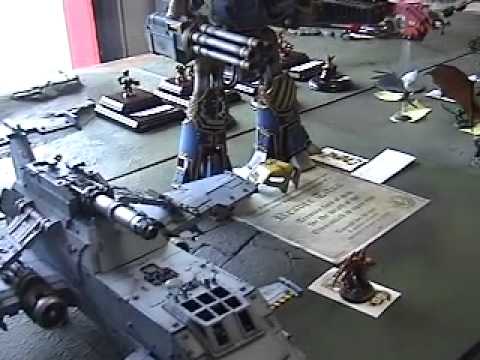 4 tags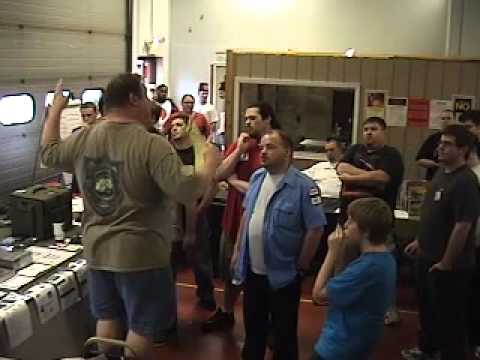 Berks Spring Assault 2 Photos →
Photos from the tournament
4 tags
Full List of Black Sky
Points totals here, including the soon to be purchased Stormravens Basic points (no add on weapons or equipment)- about 5300 Points with full add ons- about 6250 _____________________________________________________ HQ- Chapter Master Company Captain w/ Terminator armor Company Captain Librarian w/ Terminator armor Chaplain w/ Terminator armor 5 Man Command Squad ...
Touch ups and additions
I have been going back and doing touch ups on Black Sky. The assault marines needed lots of work. The one and only time I have used them they lasted for one turn and were wiped out. But there is something I hope to buy at some point that will make them much more useful. Stormravens are on the way! I WANT at least three. The whole reason I bought Space Marines in the first place was to make an...
3 tags
News from the 40K
Merry New Year! OK, thats done, here is the news. Apocalypse game- Rescheduled (again) I think the game is being over thought just a bit. I am not placing responsibility for all of the delays on anyone but me, after all it was my idea, planning and all. It has just gotten a little out of control. It isn't that the game has gotten too large, I am looking forward to a tens of thousand Apoc...
3 tags
6 tags
Chaos VS Imperium Apocalypse Battle
October 16, 2010 I have been working on setting up an apoc battle. It is quite a bit of work because I want to make new terrain for the game. The battle will be Chaos demon/Chaos Space Marine against IG/Space Marine. The game will be played on two boards. The main board will be an 8X8. The objective on that board will be for the Imperium to break through a gate. Once done, they can pass through...
3 tags
8 tags
500 point game
Had a little game today at HT against Erik Angel playing his new Orks. I had my Captain, two 10 man Tactical squads and a razorback, he had a crap load of Gretchin, four Commandos, a Deff Dread, Big Mek with a Shokk attack gun and three Deffkoptas. That damn Shokk gun took out two Marines from 2nd Squad on the very first shot. The Shokk gun is a little unpredictable even before the scatter dice...
4 tags
Future additions to 3rd Company
There is one big addition soon to come, it will be big and will bring 3rd Company to a whole new level. But I also am planning to round out 3rd Company with three more Tactical squads. And if I get my $$ situation straightened out, maybe another Assault squad. This will also mean I have to add two more rhinos too. So, I do need five more Tactical marines to round out a ten man squad. More to...
6 tags
4 tags
A big game day
This coming Sunday, the 18th, I will play my Space Marines for the first time. It will be a 1,000 point game against Mark. Now all I have to do is figure out what I want to take to take out his Eldar. Should be a good game.
4 tags
Vogsel IV
The life of a Space Marine is to fight. Whether that enemy is human, Xenos or even his own Brother, matters not. To fight is the only life they know. And to die in that service is the only rest he will ever know. Riding in a Thunderhawk during a combat insertion has only one comparison. It is a little like standing in front of a fifty foot tall gear as it turns, with each one of its gigantic...
Black Sky Company list
BLACK SKY 3rd COMPANY HQ    Captain Mara       1    Command Squad  Champion                    1 Apothecary                  1  Veterans                      3 Librarian                      1 ——————————- Tactical Squad (3) Sgt                              1    Marine                        9  Scout Squad      (1) ...
All is not as it appears. (It's the day to day...
Captain Kian Mara sat at a table in the briefing room on board the Black Sky battle barge Errant Pride. A room that has become his office, more or less. Every available space on the ship has been packed because of the addition of nearly four hundred Marines and support crews. He gave up his room and office and moved to this set of rooms near the flight deck. It made sense really, he was the same...
8 tags
Watch
Video #2 Game 1
3 tags
Watch
A new stop motion video
Watch
The first Warhammer 40K tournament at Hobbytown USA in Reading
4 tags
Tournament
January 9th, 2010 Hobbytown USA in Reading, Pa It will be the debut of my Black Sky Space Marines. It is a 500 pt tournament, and had a surprisingly hard time working out what to feild. But here is the list. 1 Space Marine Captain 5 Tactical Space Marines with a Rhino 5 Assault Terminators 1 Razorback Should be interesting LINK for tournament
Story of Black Sky
I am working on the back story (fluff). They will have a special love for a certain race that has become the scourge of Hobbytown as of late. I am building a list to take the fight to them and while I don't honestly expect to win I will take as many of the fungi ridden bastards with me as possible! Oh, did I give it away? The plan as it stands at the moment, is to make a full Company, 10...
3rd Company
Land Raider Crusader- Hypatia
Berks Warhammer 40K
The place to play Warhammer 40K in the Reading, Pa area!
4 tags